Published on — February 13 2015
Evodesk is a competitively priced adjustable standing desk range from NextDesk. The company has produced high end adjustable height desks under its NextDesk brand for a number of years. Clearly it makes sense to offer a lower priced alternative, given that the market is much larger.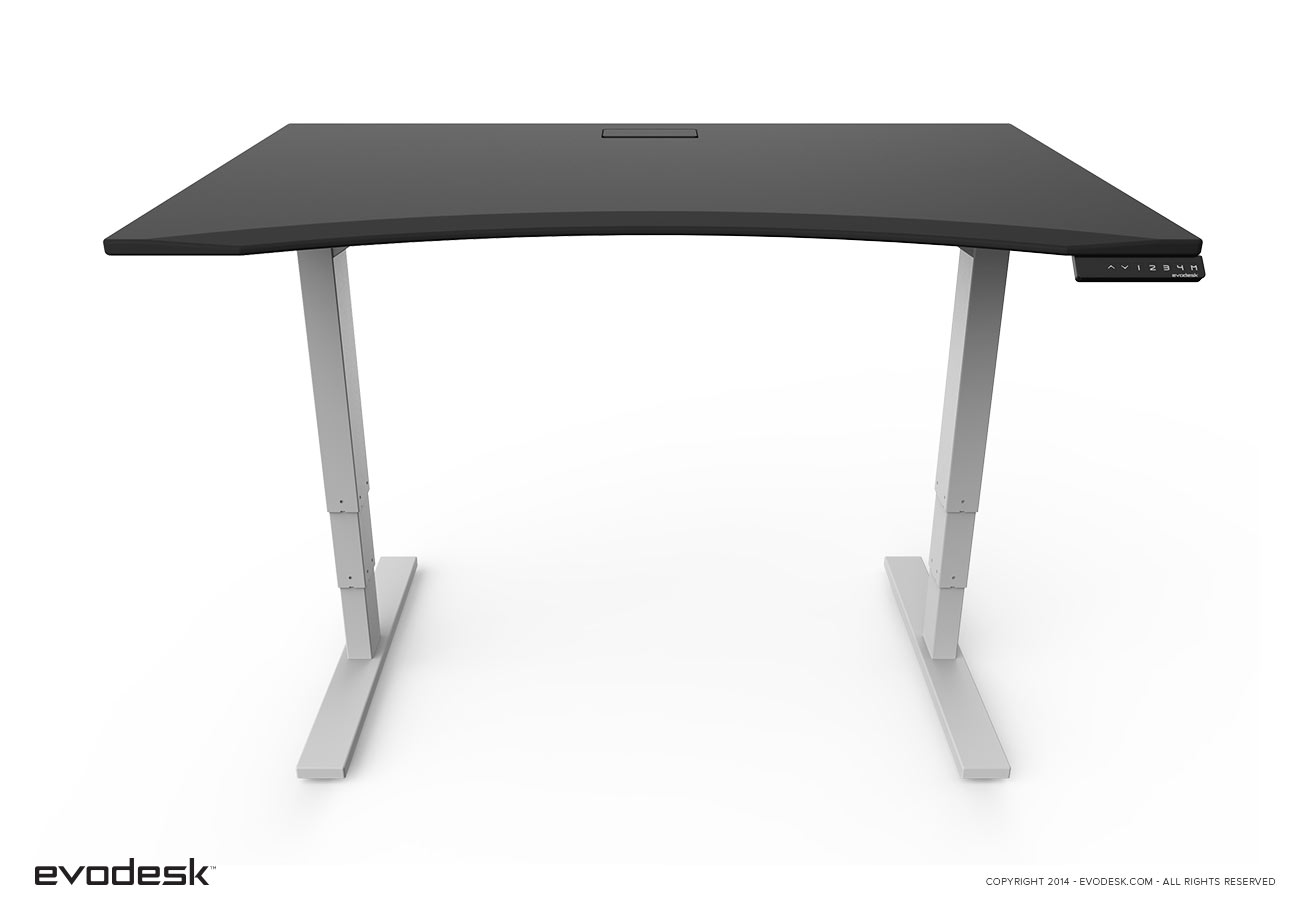 Watching the product video at evodesk.com certainly gives the impression that Evodesk is a premium product, making the pricing look very attractive. Although it does have some unique features like its powder coated top finish, many of its components are sourced from trade manufacturers and commonly used by other desk suppliers.
More on that later.
Who is it for?
With some 25" of adjustment range and a top height of 48.75" excluding work surface, the desk is going to be suitable for the vast majority of users whether short, average or tall built. Frame weight carrying capacity is good at 355lbs so will safely support plenty of equipment.
Product technical details
The desk has an unconventional top finish based on a powder coating sprayed onto a timber core. Evodesk champions the superiority of the top over a conventional laminate top, citing its durability and rounded corners and edges.
Whilst these are attractive features, the process limits the choice of finishes to 3 solid colors – black, slate grey and white. It's not practical to create a wood effect with this procedure. Work surfaces also include a rectangular sliding cable port rather than the commonly used round grommet.
Tops come in 3 sizes:
30" x 48"
30" x 60"
30" x 72"
There is an optional treatment to the top's front edge of a curved profile that tapers down to a shallow edge at the front and does have ergonomic benefits. It's made by machining the shape into the wooden core of the top prior to coating.
Should you want to fit your own top, you are able to buy the frame separately.
Height adjustment is taken care of by two motors mounted singly per leg. As standard, these are controlled by a two button raise/lower switching arrangement. There is an optional programmable controller that has additional buttons for saving up to 4 of your favorite working heights.
When adjusting top height, the work surface moves at up to 1.5 inches per second.
Further optional extras include:
A steel vanity tray for running cables under the desktop
A non-tilting keyboard platform for under desk mounting
A stylish sound system made by Harman Kardon
Warranty
The warranty on the Evodesk range is surprising low at just two years. For a product that the supplier promotes as being the first desk that's future proof, this shows a marked lack of confidence in the product's quality. Especially when you consider that comparable products like Uplift have 5 years warranty and Jarvis 7 years.
Overall opinion
The Evodesk website is superbly put together from a marketing perspective, with its highly professional video extolling the virtues of its product. However, when you delve into the desk more closely, apart from its spray finished tops the actual guts of its product — the legs, frame and motors are the same as those used by a number of other suppliers.
Its claims of 'best in class' for motor speed, frame weight capacity and maximum height range are no better than two of its rivals, Uplift and Jarvis. Also, the quoted 250 different sitting and standing positions although perfectly true, is hardly unique. It's derived from the readout of the controller which shows positions in 1/10th of an inch increments. This is a standard feature of most modern controllers.
And what looks like an outstanding price has a sting in the tail. When you go to buy online the checkout shows delivery as $0. However, once you go further and register your details you'll then find a 'Standard Transit' charge is made. In the test we carried out it was $59, with the option for collect for no charge if you're lucky enough to be based close enough to its base in Austin TX.
Clearly, delivering desks is not cheap and an on cost is expected. Some suppliers choose to include it in the overall product price, others as a separate charge. Slipping in this surprise cost at a very late stage in the buying process is unlikely to go down well with prospective purchasers.
In summary, the only real difference between Evodesk and competing products is its powder coated tops. And these are certainly an interesting alternative to more conventional laminate tops. Much is made of the environmentally friendly manufacturing process in coating these tops. Whilst that's to be welcomed, if the wood core is made of MDF which seems probable given the CNC machining process, this has its own set of problems as harmful chemicals like formaldehyde are used. Without confirmation of what the timber core is constructed from it's not possible to know for sure.
Where to buy online
Evodesk is available direct from its website www.evodesk.com